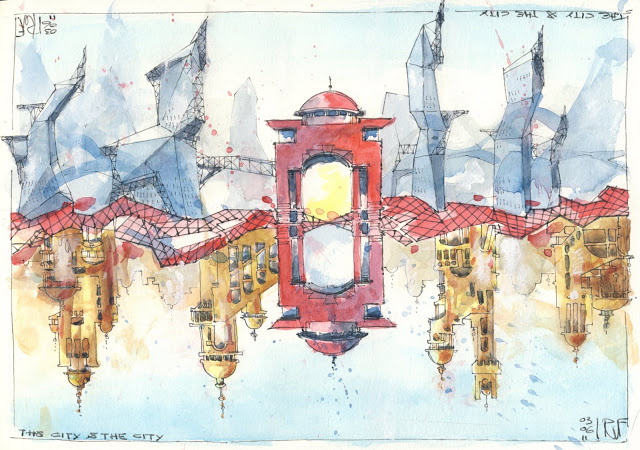 I recently heard about this book which brings to light the fact that different people and communities will use and experience the city in different ways. How do we consolidate and map these experience? What will it reveal?
The City & the City takes place in the cities of Besźel and Ul Qoma. These two cities occupy much of the same geographical space, but via the volition of their citizens (and the threat of the secret power known as Breach), they are perceived as two different cities. A denizen of one city must dutifully 'unsee' (that is, consciously erase from their mind or fade into the background) the denizens, buildings, and events taking place in the other city — even if they are an inch away. This separation is emphasized by the style of clothing, architecture, gait, and the way denizens of each city generally carry themselves. Residents of the cities are taught from childhood to recognize things belonging to the other city without actually seeing them. Ignoring the separation, even by accident, is called "breaching" – a terrible crime by the citizens of the two cities, even worse than murder.
The twin cities are composed of crosshatched, alter, and total areas. "Total" areas are entirely in one city, the city in which the observer currently resides. "Alter" areas are completely in the other city, and so must be completely avoided and ignored. Between these are areas of "crosshatch". These might be streets, parks or squares where denizens of both cities walk alongside one another, albeit "unseen." Areas that exist in both cities usually go under different names in each one. There is also Copula Hall, "one of the very few" buildings which exists in both cities under the same name. Rather than being cross-hatched, it essentially functions as a border. It is the only way in which one can legally and officially pass from one city to another. Passing through the border passage takes travellers, geographically (or "grosstopically"), to the exact place they started from — only in a different city.
Image from:
http://renefijten.blogspot.cz/2011/06/city-city.html