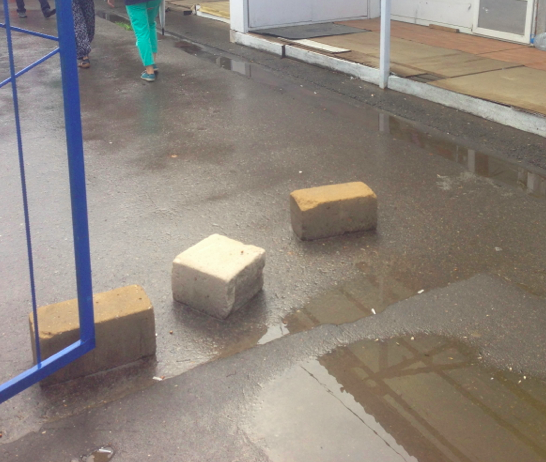 Slavyanskiy Mir is filled with a variety of visible and invisible borders between spaces, people, and goods. many of these boundaries are quite visible at the human scale, such as this permeable boundary of informally placed stones. Others are less visible. Here are a list of borders identified form our site visit.
Moveable fences. These fence components can be found everywhere in the market and seem to be used to close off whole aisles. They don't seem to be security fences. They simply seem able to impede flows.
Several travel agents in the market offer services to arrange flights to Armenia, Azerbaijan, Tejikistan, Turkmenistan, and Uzbekistan.
The iconic wall of Derbent, Russia's oldest city, is on the cafe across from the line-up of busses heading for Dagestan. The image helps to collapse the distance of the upcoming 20+ hour bus ride.
A series of electric pylons cuts through the market space. One of the pylons lies on its side, cars parked in between its arms. It creates a boundary between the two halves of the market.
Concrete barriers that bar access to automobiles are given the human touch.
One of the least visible borders is the line between upstairs and downstairs. A completely different world can exist above the stores. What is that world and how is this divide mediated?